Blog
Dec 16,2020
Fletcher Community Profile: Love where you live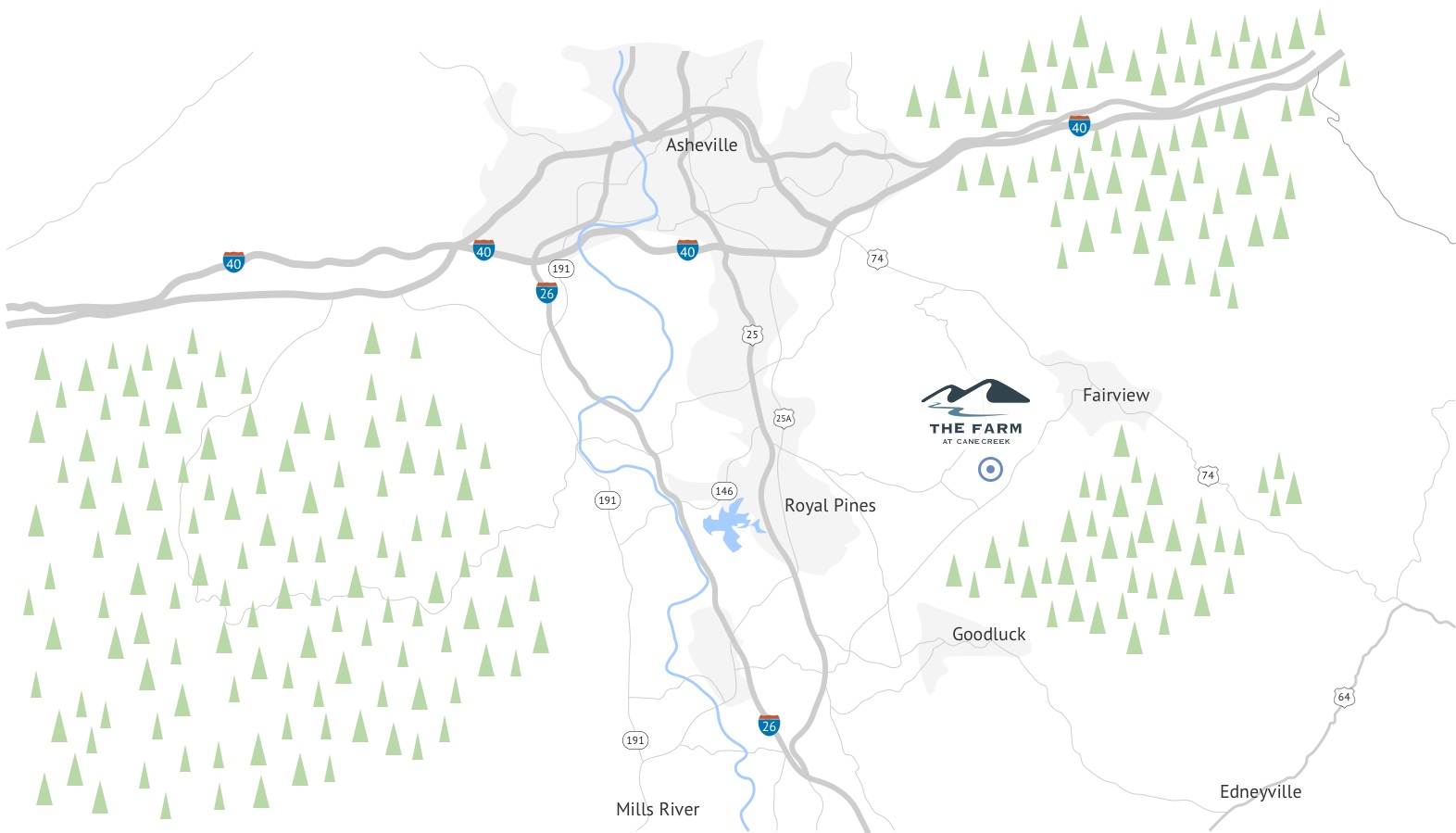 The Farm at Cane Creek is located on the outskirts of Fletcher, NC. Portions of Fletcher are located in Buncombe County and the northern edge is located in Henderson County which can be a little confusing to newcomers. The Farm at Cane Creek is located in the Buncombe County portion. Fletcher is mostly level to hilly terrain and dominated by Cane Creek and French Broad River and their tributaries. Several major roadways provide easy access to Fletcher. US Highway 25 runs north-south through the center of the Town and is the main thoroughfare for residents going between south Asheville to north, east or west Asheville.
The Town of Fletcher is located in the Henderson County portion and is approximately 6 square miles with an approximate population of 4,100 resident
Cane Creek Road is the main road to access The Farm at Cane Creek. It is a straight road with very few curves with a private feel since you are not on the main highway roads. It is a popular path for travelers going to and from east Asheville to south Asheville and the Asheville Regional Airport.
Overview
It is a lovely, rural valley landscape with farms dotting the hillsides where roadside farm stalls are popular during summer to fall months and locals are encouraged to visit local farms offering family-friend activities, horseback riding, fall harvest events and more. Many of the homes are situated on large property lots in the Cane Creek valley with conservation easements which help maintain the farm-like feel. Development in the area is more residential than commercial which keeps traffic and noise down.
School District – Cane Creek and Fletcher are great communities to raise a family. Cane Creek is located within the Buncombe County School District. There are two public schools – Cane Creek Middle School and Fairview Elementary School. AC Reynolds High School is located 10 minutes from The Farm at Cane Creek.
Special Features + Characteristics
If we had to sum up Cane Creek in one sentence, we would say, Cane Creek is the best of rural family life and living.
Variety of Farm Life (livestock, produce, etc.)
Equestrian lifestyle
Holistic Health
Love for the outdoors
Local produce and locally made products such as cheese and meats
Easy and Close access to Local Farmers Markets
Abundant Outdoor Activities
Fletcher offers many outdoor activities and amenities.
Nearby hiking trails, mountain biking paths and road cycling
Access to the Blue Ridge Parkway is a 10 minute drive
Cane Creek is not a boating creek but great for fishing and enjoying walking paths
Lake Lure is a 20 minute drive

Lake Lure is a 20 minute drive further up US Hwy 74 offering the beauty of Lake Lure (Dirty Dancing was filmed here) with a village-like feel surrounded in lush forest canopies against rocky ridges and cliffs. A popular destination is Chimney Rock State Park, the location of a magnificent 400 foot waterfall.