Our Location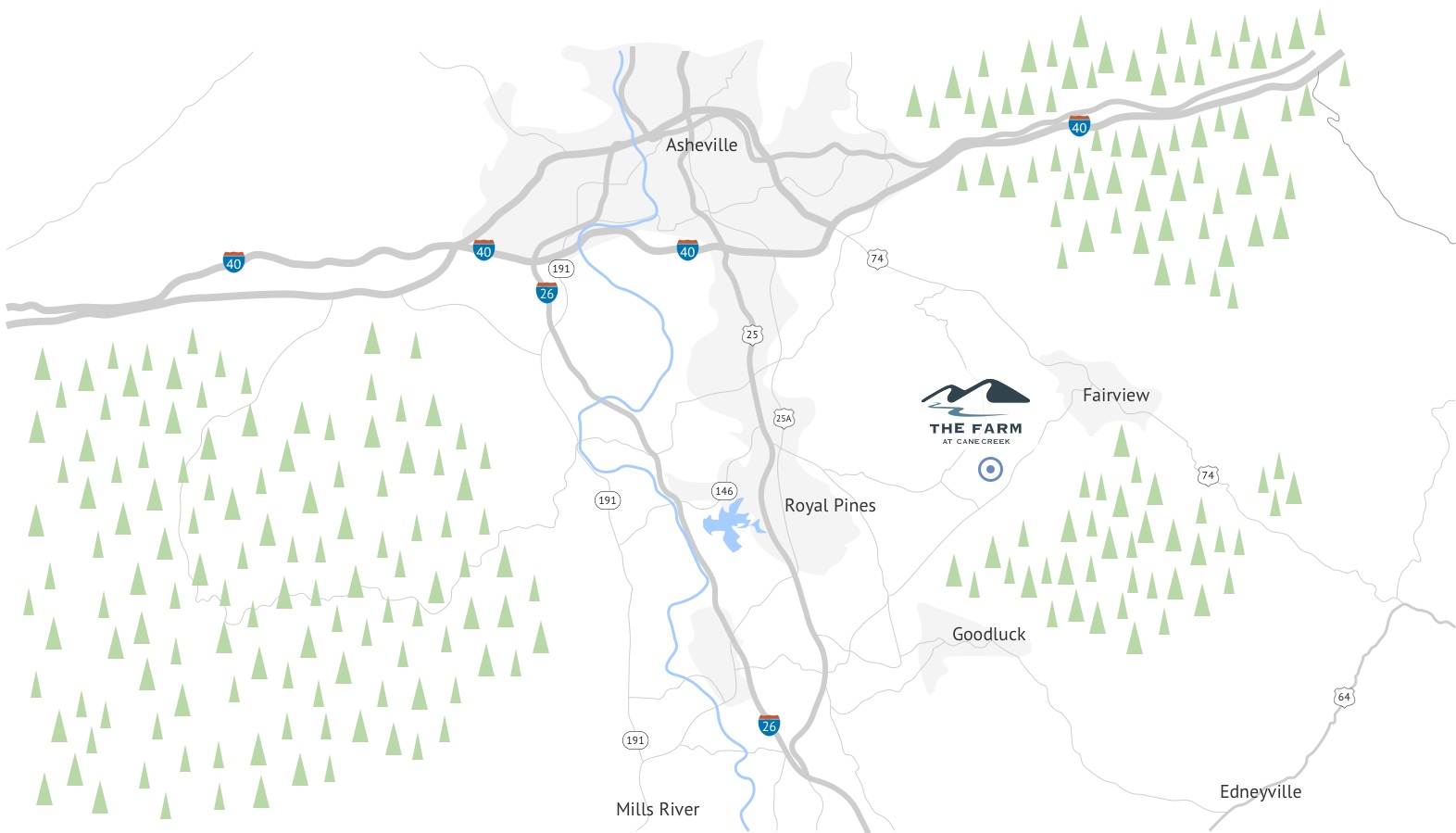 Each year, tourists flock to Western North Carolina by the thousands to enjoy the mountain scenery and the bustling towns. Many end up wanting to stay, enthralled by the culture and pace of life. Then they realize finding an ideal home is a challenge.
They search the internet for the perfect spot where they can get some peace and tranquility while still having access to all the city amenities they enjoy. If they're lucky, they find property like the new lots available in southern Buncombe County.
The Farm at Cane Creek has a location that's ideal. It's got everything that an environmentalist, naturalist, urbanist and general nature-lover desires. The Cane Creek location is just 10 minutes to downtown Asheville, 15 minutes to the Asheville Regional Airport and 20 minutes to Hendersonville. It's got the great mountain views, mountain creeks, hiking trails and now lots for custom-built homes.
Most developments have less than 1 acre (and usually less than 1/2 acre) home sites. The Farm at Cane Creek home sites are a minimum of 1 acre with up to 4 acres available. This gives any family the size they need to roam, garden, horseback and more while ensuring privacy and tranquility. At night the lack of city sounds will surprise you and yet, you are just a 10 minute drive to all that downtown has to offer. This is where rural charms meets upscale living.
Introducing WNC
In the autumn months, the Blue Ridge Mountains look like someone's flicked them with a paintbrush of golden hues. The winters in Western North Carolina are mild, with just enough snow to remember what it's like. Spring arrives with lush wildflowers and every shade of green you can imagine. Summer brings flowing rivers just right for fishing or playing.
Tourists, retirees and long-time residents fall in love with Western North Carolina because of the natural beauty. The people are friendly, the music and food scenes are hopping, and you get to live a mini-farm lifestyle every day.
WNC is affordable compared to other parts of the country, yet the region offers nearly the same level of opportunities. Residents enjoy the rich history, the lively present, the growing economy and the artistic environment. From music to cooking and writing, WNC produces a number of acclaimed artists who attest to the inspiration they get from their home in the mountains.
Locals, Call Now
If you're a WNC local, you already recognize the reasons to live here. If you're considering a move to get some breathing room and land on which to roam, call now at (828) 684-8999 to secure your place in the new development built by the locally-born-and-bred eco-developers and farmers, W.B. and Billy Taylor. If you don't grab your little piece of this idyllic spot, the tourists and retirees will scoop them up.
W.B. Taylor comes from three generations living in the Cane Creek Valley. He grew up with horses and cattle, fresh vegetables from the fields and woods to explore. He continues to be enamored with the peace and topography of the area. And after experiencing the values and way of life his children grew up with, he and his son Billy want to share it with others.
When you move your family to Cane Creek and into your new custom-built home, you won't have to leave your job, your friends or favorite activities behind. Even though you may feel like you're hundreds of miles from the fast-growing cities of Asheville and Hendersonville, in fact, you're still just minutes away from all of those same rewarding relationships.
More Than Just a House
Because of the nearby majestic Blue Ridge Mountains, the Cane Creek location provides you with so much more than just a new house. The community welcomes you. The serenity you find in the Cane Creek Valley surrounds you every day and every night. Enjoy the pleasures of the countryside in a mini-farm setting — which means horses, gardens, woods and nature.
Maintain your environmental priorities when you live in a home created to blend naturally with the surroundings. Your home is built on leveled land among gently rolling hills that provide you with glorious mountain views, easy access to the property's entrance and the security and seclusion you expect from rural living. Yet you're within minutes of the city amenities you may occasionally crave.
Southern Buncombe County, near Fletcher, is an ideal spot. Your new house becomes the home of your dreams in a place where dreams are made real. You have to see it for yourself!