Blog
Apr 5,2020
You've found your perfect secret paradise off the beaten trail in Asheville, North Carolina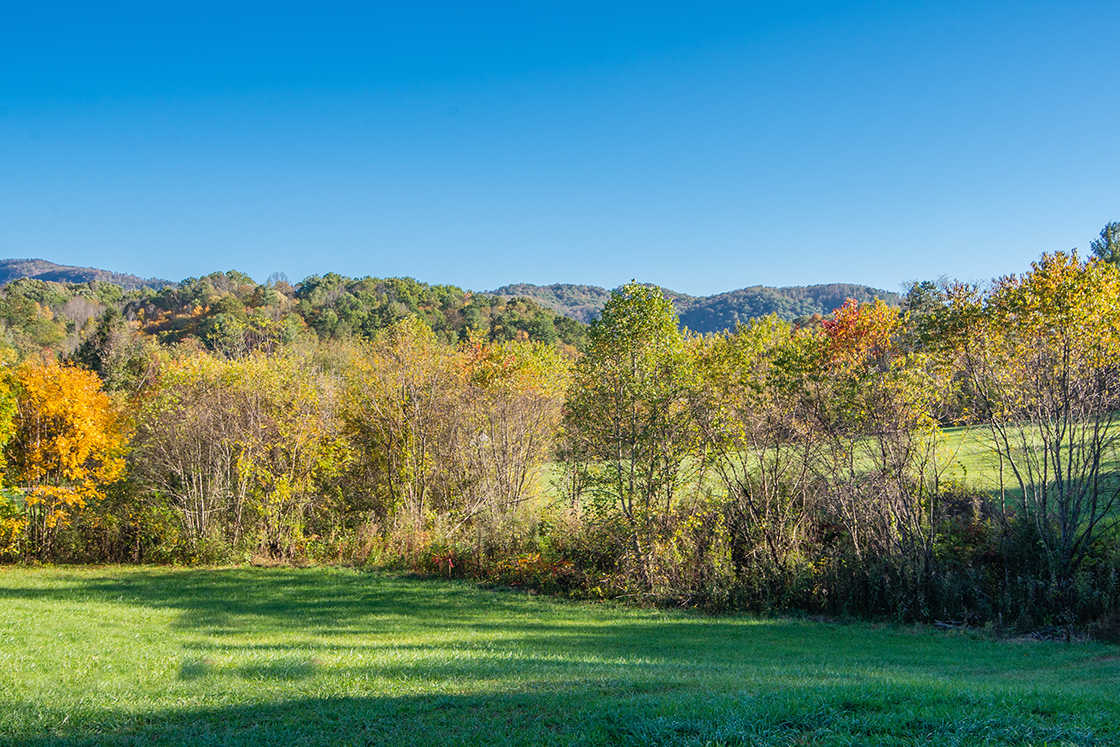 NATURE'S WAY OF SOCIAL DISTANCING – WIDE OPEN SPACES
It goes without saying that we can all use a bit of peace and tranquility through this time. Here in Asheville at The Farm at Cane Creek, we are blessed to have wide-open spaces with beautiful views and mountains to hike, trails to walk within steps of our front door. Today, more than ever, people are getting out, stretching their legs and using the great outdoors as nature's perfect social distancing. This picture of Cane Creek Valley is an inspiration of how nature can provide the perfect social distancing environment – fresh air with plenty of space to roam and play.
OFF THE GRID TO GROW AND PLAY OR VISIT THE CITY FOR THE DAY
Are you looking for a place to kinda get off the grid, away from the noise, the hustle and bustle of downtown and yet you don't want to give up access to all that the city offers? Then you're in the right place. The Farm at Cane Creek is a secret jewel just a few miles from the great shopping, award-winning and James Beard-nominated dining, and breweries of downtown Asheville. An easy 15-minute drive you can be in downtown exploring or you can take a 20-minute drive to Lake Lure and Chimney Rock where you can play lakeside, rent pontoon boats, camp, sip locally sourced wines, drive with the car rooftop down and see why 'Dances with Wolves' and 'Dirty Dancing' were both filmed there.
EASY BUILD, CITY PERKS
Country living doesn't have to cost you your city perks. The Farm at Cane Creek lots are all easy to build on sites with underground utilities. You don't have to give up your city perks – we even have fiber-optic high-speed internet and highly rated schools. Check out all of our amenities.
MINI-FARM LOTS
Choose the farm life you want – lots are 1 acre to 4 acres where you can choose to build a garden or have a horse or do nothing all but enjoy the rolling valley. Cane Creek is known to be a horse community so you won't be alone. You will find plenty of trails and we are just a short drive to Tryon International Equestrian Center (TIEC)! Others can choose to plant a flower or vegetable garden – just down the road, you will even find a wildflower garden where the public can pick their own flowers. Either way, you choose and if you don't want to do anything but enjoy the pastoral setting just as it is, there's no judgment here. Many love this area of Asheville just for that. It's off the beaten path and yet close to central Asheville.
CHOOSE YOUR PERFECT LOT NOW, BUILD LATER
Cane Creek enjoys large lot properties with options to please any outdoor loving family. You can choose a mountain view, wooded lot or creekside lot. See our full site plan here.
This remarkable opportunity is available and timely – you can buy now and build later, using some recommended well known preferred builders, we can help you design the perfect home to fit your architectural design with mountain luxury.
So, come join your neighbors. They're the perfect distance – not too close, just up the road. Check our progress here.
15 MINUTES TO EVERY CITY
What's more, we are an easy 15 minute drive to the Asheville Regional Airport in a surprisingly quiet community – we have less traffic, congestion and noise pollution. That means you are 15 minutes to any destination with direct flights to Boston, New York, Florida, Austin, Charlotte and Colorado.
Curious about the Asheville Region's Real Estate Market?
It is gratifying to report that Asheville and Western North Carolina's real estate market fundamentals are in great shape. In our nine-county area, March 2020 was still productive with 456 residential property closings and 161 land transactions. Most homes close in three months or less, and homeowners have, in many cases, reached all-time highs for appreciation.
Many people relocate to Asheville to raise their family, invest in our rising real estate market or simply to retire to live their best life. It is not surprising that the real estate market is seeing a dip in activity as every community is focused on the health and well-being of their residents and businesses. We are confident that the real estate market will return to its former pace like other business sectors once we have conquered COVID-19. We continue to have an enduring belief in the appeal of our mountain communities where we work and play.
Stay strong. Be well. We will see you soon.